NeurIPS @ Vancouver ·The Thirty-third Annual Conference on Neural Information Processing Systems
Sun Dec 8th through Sat the 14th, 2019
(Sunday is a full day industry expo)
Registration
To register using access to reserved tickets, you must be logged in.
 - General Admission Lottery
If you are not an author, workshop organizer, tutorial speaker or invited speaker, then you should join the registraiton lottery.  You have until Sept 25th to join the lottery. Read about the lottery here.  Information about applying for a visa is here.
- Authors of Accepted Papers
If you are not an author on an accepted paper at the conference, skip to the lottery paragraph below. Authors may register now through about Sept 26th (depending on timezone). You should have recieved an email invitation to register notifying you of access to reserved tickets, but if you haven't received the email, simply log in to this website and click the green button below.  If clicking the green button takes you to the lottery page and you have a different account at NeurIPS.cc than you used at CMT, try loggin in using your other email address.  You may need to reset your password if we created a new account for you. 
- Workshop Participants
If you have submitted a paper to a workshop, you should join the lottery by clicking the green registration above. All workshop presenters must register for the workshops to gain entrance into the convention center.  Workshop organizers will have a limited number of reserve tickets to give to workshop presenters, and getting your ticket through the lottery would reduce the need for an organizer to consume their reserved tickets. Joining the lottery does not prevent a workshop organizer from giving you access to their pool of reserved tickets.
-Expo
The Expo is a one-day industry day with talks, panels, demos and workshops from our sponsors. It takes place on Sunday Dec 8th. If you plan to ONLY attend the expo, then please visit Expo Only Registration » otherwise you may register for the expo as you register for the main conference.
- Child Care
NeurIPS 2019 is providing free onsite child care. For more information, please follow the link.
NeurIPS 2019 Organization
Volunteering and Travel Awards
The student volunteer » and travel award » applications will open with registration on Sept 6th. In 2019, the volunteer and travel applications will be open to all postdocs and junior faculty. All students on acccepted papers are encouraged to fill out the travel application.
Need-Based Financial Award
NeurIPS is providing financial need support awards to individuals who would otherwise be unable to attend the meeting. This helps us meet our goal of including researchers with diverse backgrounds from many different parts of the world, including those who have been under-represented at the meeting.
If you are a student or junior faculty, you should first apply for the main travel awards and student volunteer positions at NeurIPS (see above). If you have financial need that is still unmet, please apply for supplemental support below. The deadline for applications is October 10th. Please complete our need based application » to apply.
NeurIPS 2019 Poster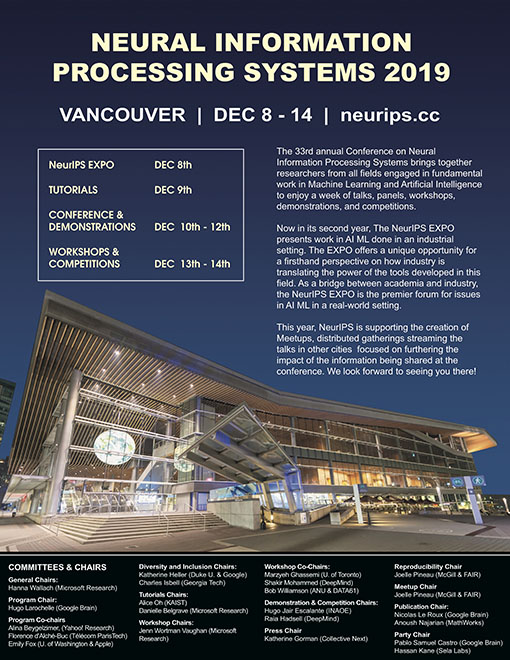 Important Dates
| | | |
| --- | --- | --- |
| Tutorials | Mon Dec 9th | |
| Conference Sessions | Tue Dec 10th through Thu the 12th | |
| Workshops | Fri Dec 13th through Sat the 14th | |
Paper Submission Deadline
May 23, 2019, 3 p.m.

*

Workshop Application Deadline
June 3, 2019, 6 p.m.

*

Tutorial Application Deadline
June 11, 2019, 4:59 p.m.

*

Volunteer and Travel Applications Open
Sept. 6, 2019, 8 a.m.

*

Registration Opens
Sept. 6, 2019, 8 a.m.

*

Author Registration Opens - Authors on conference accepted papers gain access to reserved tickets.
Sept. 7, 2019, 6 p.m.

*

Call for Music Submission Deadline
Sept. 14, 2019, 3:59 a.m.

*

Expo Calls for Talks, Demonstrations, and Workshops Close
Sept. 18, 2019, 4 p.m.

*

Demonstration Proposal Deadline
Sept. 19, 2019, 4:59 p.m.

*

AuthorRegistrationCloses - Authors on conference accepted papers lose access to reserved tickets
Sept. 27, 2019, 6 a.m.

*

Workshop Organizers Announce Decisions
Oct. 1, 2019, 6 p.m.

*

Volunteer and Travel Application Deadline
Oct. 3, 2019, 11:59 p.m.

*

Deadline to Apply for Travel Support
Oct. 3, 2019, 11:59 p.m.

*

Demonstration Notifications
Oct. 11, 2019, 6 p.m.

*

Child Care Registration Deadline
Nov. 11, 2019, 11:59 p.m.

*

Last Chance for Registration Refund
Nov. 28, 2019, 11:59 p.m.

*

All dates »

* Dates above are in pacific time
The Neural Information Processing Systems Foundation is a non-profit corporation whose purpose is to foster the exchange of research on neural information processing systems in their biological, technological, mathematical, and theoretical aspects. Neural information processing is a field which benefits from a combined view of biological, physical, mathematical, and computational sciences.
The primary focus of the Foundation is the presentation of a continuing series of professional meetings known as the Neural Information Processing Systems Conference, held over the years at various locations in the United States, Canada and Spain.