View our Sponsors »
2016 Pre-proceedings »
NIPS 2017 Long Beach »
Videos
Videos from the Tutorials and Conference are now linked into the schedule. Also PDF's of papers are linked to posters. Follow Facebook/Twitter (below) for further video announcements.
View Full Schedule »
Awards
We would like to congratulate the winners of the best paper, best student paper, best demonstration and best reviewers awards.
View Awards »
Tutorials Mon Dec 5th
The tutorial times and rooms have not been set yet. View the list of tutorials using the button below.
View Tutorials »
Symposia Thu Dec 8th
Deep Learning Symposium
Machine Learning and the Law
Program Learning with Recurrent Neural Nets
(included with "Conference Sessions" and/or "Workshops")
View Symposia »
Workshops Dec 9-10
Fifty workshops will take place over Friday and Saturday December 9th and 10th.
View Workshops »
Demonstrations Dec 6 - 7
Tue and Wed evening each have 10 demos showcasing novel technology in the following areas: interactive models, learning from demonstration, realtime visualization of learning models, hardware technology, biologically-inspired learning models, and robotics.  View Demos
NIPS 2016 Poster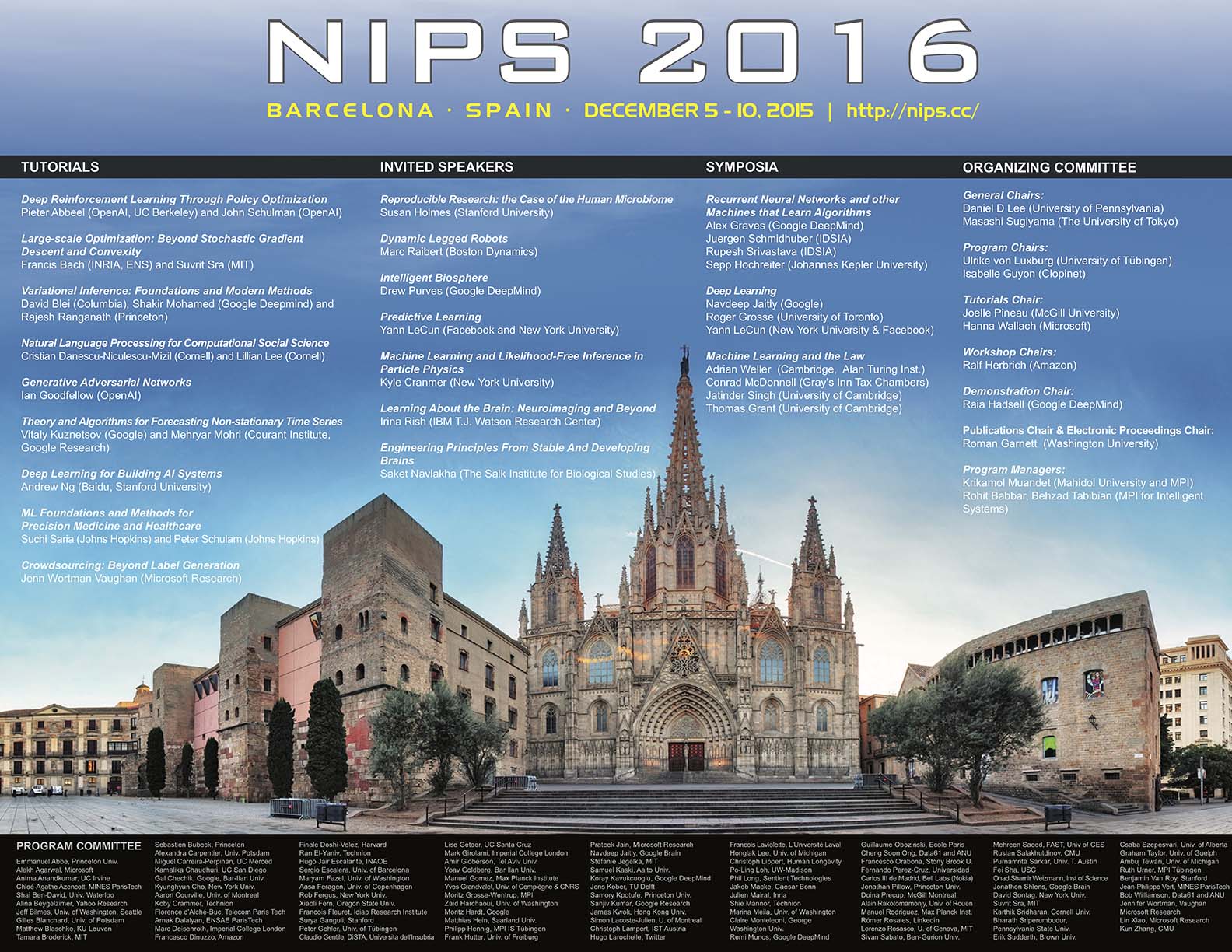 The Thirtieth Annual Conference on Neural Information Processing Systems (NIPS) is a multi-track machine learning and computational neuroscience conference that includes invited talks, demonstrations, symposia and oral and poster presentations of refereed papers. Following the conference, there are workshops which provide a less formal setting.