Tutorial
(Track1) There and Back Again: A Tale of Slopes and Expectations
Marc Deisenroth · Cheng Soon Ong
Mon Dec 07 02:30 AM -- 05:00 AM (PST) @
Integration and differentiation play key roles in machine learning.
We take a tour of some old and new results on methods and algorithms for integration and differentiation, in particular, for calculating expectations and slopes. We review numerical and Monte-Carlo integration for calculating expectations. We discuss the change-of-variables method leading to normalizing flows and discuss inference in time series to get there''. To getback again'', we review gradients for calculating slopes by the chain rule and automatic differentiation, the basis for backpropagation in neural networks. We discuss backpropagation in three settings: in probabilistic graphical models, through an equality constraint, and with an inequality constraint.
To complete the round-trip, we explore algorithms for calculating gradients of expectations, the basis of methods for variational inference, reinforcement learning, and experimental design.
Author Information
Marc Deisenroth (University College London)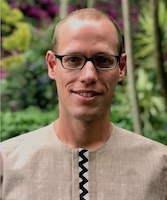 Professor Marc Deisenroth is the DeepMind Chair in Artificial Intelligence at University College London and the Deputy Director of UCL's Centre for Artificial Intelligence. He also holds a visiting faculty position at the University of Johannesburg and Imperial College London. Marc's research interests center around data-efficient machine learning, probabilistic modeling and autonomous decision making. Marc was Program Chair of EWRL 2012, Workshops Chair of RSS 2013, EXPO-Co-Chair of ICML 2020, and Tutorials Co-Chair of NeurIPS 2021. In 2019, Marc co-organized the Machine Learning Summer School in London. He received Paper Awards at ICRA 2014, ICCAS 2016, and ICML 2020. He is co-author of the book [Mathematics for Machine Learning](https://mml-book.github.io) published by Cambridge University Press (2020).
Cheng Soon Ong (Data61 and Australian National University)
Cheng Soon Ong is a principal research scientist at the Machine Learning Research Group, Data61, CSIRO, and is the director of the machine learning and artificial intelligence future science platform at CSIRO. He is also an adjunct associate professor at the Australian National University. He is interested in enabling scientific discovery by extending statistical machine learning methods.
Related Events
(a corresponding poster, oral, or spotlight)
More from the Same Authors